Day 2 :
Keynote Forum
Universidad de Guanajuato, Mexico
Time : 00

Biography:
Maria del Rocio Gamez Montano performed degree in QFB in the Universidad Michoacana de San Nicolás de Hidalgo (UMSNH), postgraduate studies at the National Autonomous University of Mexico (UNAM) where the degree of Doctor in Chemistry (won 2001) with the specialty in the area of ​​Organic Chemistry. In 2001-2002 she made a Postdoctoral stay at the Institut de Chimie des Substances Naturelles in France under the direction of Dr. Jieping Zhu (world leader in the area of multicomponent). In July 2002 she joined the University of Guanajuato as a Research Associate "B", in 2003 was promoted to Research Associate "C" and since 2009 is Researcher "A". She was a member of the National System of Researchers and Candidate Investigator during the period2003-2008.
Abstract:
As a part of our ongoing program to develop short and versatile Groebke-Blackburn-Bienaymé based methodologies towards novel bound-type bis-heterocycles, we are here summarizing our recent published results. Thus, in 2015 we synthesized the series of 18 2-chromone-imidazo[1,2-a]pyridines (a) in 70-93% yield via acid-catalyzed GBBR. Then, in 2016, we synthesized the series of 11 imidazo[2,1-b]thiazoles (b) and 12 benzo[d]fused analogues (c) bound in C-2 position with julolidine, 2-chloroquinoline and chromone heterocyclic frameworks in 82-96% and 72-97% yields respectively, via an acid-free version of the GBBR. As seen, the products herein described may find application in MedChem because they have two heterocyclic frameworks present in many bioactive products and drugs.

Biography:
Xie Linghai is a Professor of Organic/Polymer Materials Chemistry at Nanjing University of Posts and Telecommunications. He obtained his PhD from Fudan University in June 2006. After this, he joined Nanjing University of Posts and Telecommunications and become a leader of the Center for Molecular Systems & Organic Devices. He won the NSFC Award for Excellent Young Scholar in 2013. His research activities focus on molecular installing technology, synergistically molecular attractor-repulsor theory, polygrid-based wide-bandgap semiconductors, organic electrets for memories and memristors. He has published more than 150 papers in reputed journals and has been cited by more than 2000.
Abstract:
Organic nanogrids are different from the macrocycles according to the Chinese FangYuan's culture and ancient window patterns that inspired us to explore the unprecedented direction. Nanogrids serve as the units to not only 3D cages or covalent organic polyhedra (COP), covalent organic frameworks (COFs), and three-dimensional metal-organic frameworks (MOF), but also to soluble nanopolymers with the double merits of both carbon nanotubes and polymers. We explored the synthon design of nanogrids that is the starting point for the molecular nanotechnology to manipulate various funtons such as electron, photon, exciton, phonon, proton, as well as mechanon (Figure 1). By means of the designable vertices and edges, nanogrids have absolute merits with infinite expendability to enter internet or networks according to the window's pattern of ancient China that offer unprecedented functional and optoelectronic materials. Ultimately, beyond above structures and architectures, nanogrid will offer a bridge between molecules and macroscopic compounds to challenge Feynman's prediction. XLH chemistry make era of consciousness possible that offer a chance to fabricate artificial PhD/chemists who release scientists from lab in the next half of the 21st century.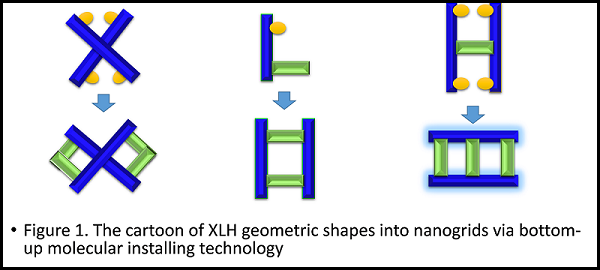 Keynote Forum
Northern Illinois University, USA
Time : 00

Biography:
Narayan S Hosmane was born in Gokarn, Southern India and is a BS and MS Graduate of Karnatak University, India. He obtained a PhD in Inorganic Chemistry in 1974 from the University of Edinburgh. After Post-doctoral Research in UK and in the USA (UVa), he joined Virginia Tech and then moved to SMU in 1982, where he became Professor of Chemistry in 1989. In 1998, he moved to Northern Illinois University as a Distinguished Research and Board of Trustees Professor. His international awards include but are not limited to the Alexander von Humboldt Foundation's Senior US Scientist Award twice; the BUSA Award for Distinguished Achievements in Boron Science; the Gauss Professorship of the Göttingen Academy of Sciences, Visiting Professor of the Chinese Academy of Sciences and Foreign Member of the Russian Academy of Natural Sciences. He has published over 320 papers in leading scientific journals and is an author of five books on boron science and cancer therapies.
Abstract:
In recent years, many efforts have been devoted to developing nanomaterials-based boron drugs for neutron capture therapy (NCT) and to date, a majority of the studies have proved reasonably promising. Conversely, further in vivo studies and clinical trials are needed to establish them as appropriate boron carriers; this is especially so with the relatively novel boron and carbon nanotubes and magnetic nanoparticles. More advanced forms of boron nanotubes can be anticipated as much interest in their synthesis as their future applications. Thus, boron neutron capture therapy (BNCT) is a promising treatment for malignant brain tumors as well as for other types of cancers, such as, liver, prostate, bladder, breasts, head and neck tumors. Current research focuses on both the design and synthesis of high boron containing compounds as BNCT agents, and the search for suitable delivery vehicles. To be suitable BNCT agents, the problem of their low water-solubility needs to be resolved by chemical modification. In the case of magnetic nanoparticles, strategies are required to counter their tendency of embolization and their unclear cytotoxicity must be resolved.
(a)
(b)
Synthesis and biodistribution of carborane-appended magnetic nanocomposites without (a) and with (b) external magnet (1.14 Tesla).
Bioorganic and Biochemistry
Session Introduction
Ramkhamhaeng University, Thailand

Biography:
Thornthan Sawangwan has her expertise in biosynthesis and application of microbial and bioactive compound to functional food. Her research idea interest is mainly on prebiotic compound synthesized by bioconversion from economical substrate and agroindustry residue. Her laboratory skills are Microbiology, Enzymology, chromatography and spectrophotometry techniques. She has experience of many years in Research and Teaching in Ramkhamhaeng University, Bangkok, Thailand.
Abstract:
This research focuses mainly on synthesis of maltooligosaccharide (MOS) by using biocatalytic method. Two commercial cyclodextrin glucosyltransferases (CGTase), Toruzyme®, AMANO, and whole cell of glucosyltransferase (GTase) obtained from a culture of Eschericia coli with Thermotoga maritime_GTase strain (Tm_GTase) are used for MOS synthesis. Before start to synthesis experiment, all biocatalyst are determined of protein concentration by using Bradford technique. The reaction mixtures for MOS synthesis are comprised with soluble starch as a donor, maltose and glucose as acceptor in different ratios (1:0, 4:1, 1.5:1, 1:1, 1:1.5, 1:4 and 0:1 w/w) in 10 mM sodium citrate buffer pH 5.5+0.15 mM CaCl2 compared with the reaction in distilled water (pH 6.3) at 60°C and 85°C incubation temperature. After the appropriate incubation times, the product mixtures are stopped for the reactions by adding 0.4 N NaOH, centrifuged at 13,200 rpm for 15 minutes then analyzed by High Performance Liquid Chromatography (HPLC); HPX-87H column and ion chromatography (Dionex); Carbopac PA10 column. The considering formation of MOS products from 3 different biocatalytic processes are short chain MOS; maltotetraose (G4) and maltotriose (G3) as shown in the chromatograms of HPLC and Dionex determination. From the results, the noticeable synthesis of MOS products are in the condition of maltose as an acceptor in 10 mM sodium citrate buffer pH 5.5+0.15 mM CaCl2 using Toruzyme® and AMANO at 85°C incubation temperature. These conditions show higher MOS yield compare with using Tm_GTase strain as biocatalyst. In conclusion, CGTase from Toruzyme® and AMANO can use for synthesis MOS products (especially maltotetraose and maltotriose) which have more interest for food industries in order to apply for functional food as prebiotic compounds.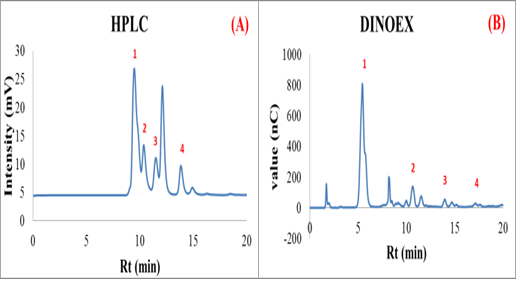 Figure 1: The chromatogram of product mixture from MOS biosynthesis (A) HPLC chromatogram; 1- maltotetraose, 2- maltotriose, 3- maltose, 4- glucose and (B) Dionex chromatogram; 1- glucose, 2- maltose, 3- maltotriose and 4- maltotetraose.
1University of Kwa-Zulu Natal, South Africa

Biography:
Parvesh Singh received his PhD degree in Organic Chemistry from the Guru Nanak Dev University (India). Currently, he is working as a Senior Lecturer (Organic Chemistry) in the School of Chemistry and Physics at University of KwaZulu Natal (South Africa). His research interests involve the synthesis, biological evaluation and molecular modeling of heterocyclic scaffolds. He is primarily using hetero Diels-Alder methodology to synthesis heterocyclic rings of different sizes. Thus far, he has published 60 research articles in peer-reviewed journals of international repute including a book chapter and a book. Additionally, he has showcased his research work in several national and international conferences.
Abstract:
Quinoline-4-ones represent an important class of heterocyclic scaffolds that have attracted significant interest due to their various biological and pharmacological activities. This heterocyclic unit also constitutes an integral component in drugs used for the treatment of neurodegenerative diseases, sleep disorders and in antibiotics viz. norfloxacin and ciprofloxacin. The synthetic accessibility and possibility of fictionalization at varied positions in quinoline-4-ones exemplifies an elegant platform for the designing of combinatorial libraries of functionally enriched scaffolds with a range of pharmacological profles. They are also considered to be attractive precursors for the synthesis of medicinally imperative molecules such as non-steroidal androgen receptor antagonists, antimalarial drug chloroquine and martinellines with antibacterial activity. 2-Aryl-2, 3-dihydroquinolin-4(1H)-ones are present in many natural and non-natural compounds and are considered to be the aza-analogs of favanones. The b-lactam class of antibiotics is generally recognized to be a cornerstone of human health care due to the unparalleled clinical efficacy and safety of this type of antibacterial compound. In addition to their biological relevance as potential antibiotics, b-lactams have also acquired a prominent place in organic chemistry as synthons and provide highly efficient routes to a variety of non-protein amino acids, such as oligopeptides, peptidomimetics, nitrogen-heterocycles, as well as biologically active natural and unnatural products of medicinal interest such as indolizidine alkaloids, paclitaxel, docetaxel, taxoids, cyptophycins, lankacidins etc. A straight forward route toward the synthesis of quinoline-4-ones via the triflic acid assisted Fries rearrangement of N-aryl-blactams has been reported by Tepe and co-workers. The ring expansion observed in this case was solely attributed to the inherent ring strain in b-lactam ring because g-lactam failed to undergo rearrangement under reaction conditions. The above mentioned protocol has been recently extended by our group for the synthesis of benzo [b]-azocinon-6-ones via a tandem Michael addition–Fries rearrangement of sorbyl anilides as well as for the single-pot synthesis of 2-aryl-quinolin-4(3H)-ones through the Fries rearrangement of 3-dienyl-blactams. In continuation with our synthetic endeavors with the b-lactam ring and in view of the lack of convenient approaches for the synthesis of C-3 functionalized quinolin-4(1H)-ones, the present work describes the single-pot synthesis of C-3 functionalized quinolin-4(1H)-ones via the triflic acid promoted Fries rearrangement of C-3 vinyl/isopropenyl substituted b-lactams. In addition, DFT calculations and MD simulations were performed to investigate the stability profiles of synthetic compounds.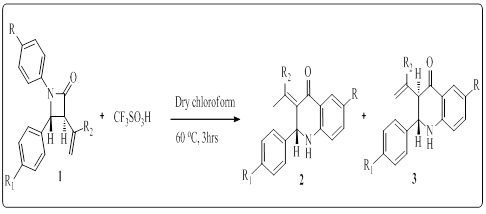 Biography:
Sara Arafeh is PhD student in Biophysical Chemistry at Marquette University, Milwaukee, USA.
Abstract:
Cytochrome P450 and monooxgenases require a supply of electrons to catalyze the synthesis of steroid hormones, fatty acids and prostaglandin hormone. Cytochrome P450 oxidoreductase (CYPOR), a membrane bound enzyme, provides these electrons in its open conformation. CYPOR has two cytosolic domains (FAD domain and FMN domain) and an N-terminal in the membrane (Figure 1). In its open conformation, electrons flow from NADPH, FAD, and finally to FMN where cytochrome P450 picks up these electrons. In the closed conformation, cytochrome P450 does not bind to the FMN domain to take the electrons (Figure 2). It was found that when the cytosolic domains are isolated, CYPOR cannot bind to cytochrome P450. This suggested that the membrane environment is important for CYPOR function. Studies on the open/closed conformations of the full-length CYPOR have never been done, so this project takes the initiative to better understand the function of CYPOR in its full length. Here, we determine the distance between specific sites in the FAD and FMN binding domains in CYPOR by Forster Resonance Energy Transfer (FRET) and Ultrafast TA spectroscopy with and without NADPH. The approach to determine these distances will rely on labeling these sites with red and infrared fluorophores. Mimic membrane attachment is done by inserting CYPOR in lipid nanodiscs. By determining the distances between the donor-acceptor sites in these domains, we can observe the open/closed conformations upon reducing CYPOR in the presence and absence of cytochrome P450. Such study is important to better understand CYPOR mechanism of action in various endosomal membranes including hepatic CYPOR which is vital in plasma cholesterol homeostasis. By investigating the conformational cycles of CYPOR, we can synthesize drugs that would be more efficient in affecting the steroid hormonal levels in human cells.
Inorganic and Bioinorganic Catalysis
Session Introduction
University of Botswana, Botswana

Biography:
Daphne T Mapolelo has expertise in synthesis and spectroscopic characterization of ruthenium metal complexes. My current research interest lies in the synthesis, characterization and biological application of ruthenium polydentate pyridine and benzimidazole-based complexes. The characterization of these ruthenium complexes requires the use of a wide range of spectroscopic/magnetic techniques such as electron paramagnetic resonance (EPR), Nuclear Magnetic Resonance (NMR), MÖssbauer, resonance Raman, natural and magnetically induced circular dichroism (CD and MCD). In addition, in vitro and in vivo studies are employed to test the metal complexes for anticancer, anti HIV and antimicrobial activities.
Abstract:
We report herein the synthesis and characterization of Ru(II)-bis-benzimidazole-based complexes, Ru(III)- polydentate pyridine-based complexes and Ru(II)-bisbenzimidazole polydentate pyridine-based complexes respectively, being Ruthenium-aquo-1, 2-di(1Hbenzo[d]imidazole-2-yl) ethane trichloride [Ru(bbe)(H2O)Cl3], Ruthenium-tri-tert-butyl-2,2',6,2''- terpyridine-chloride-N,N,N',N'-Tetrakis(pryidylmethyl)- 1,8 octanediamine perchlorate [Ru(terpy*)(1,8)Cl](ClO4)4 and Ruthenium-aquo-1, 2-di(1H-benzo[d]imidazole-2- yl)ethane chloride- N,N,N',N'- Tetrakis- (pyridylmethyl)- 1,8-octanediamine perchlorate [Ru(bbe)(1,8)(H2O)Cl2](ClO4)4 respectively. Characterization of all the complexes was done by FTIR, 1 H-NMR, 13C-NMR spectroscopies, and Elemental Analysis. Cytotoxicity and antimicrobial activity studies against both gram negative and positive bacteria, as well as multi drug resistant bacterial isolates were tested for all the complexes. The CC50, EC50, MIC and possible mode of action for each metal complex were determined. Results showed that all metal complexes were not toxic to peripheral blood mononuclear cell (PBMCs), with calculated CC50 values ranging between 0.48 mg/mL to 1.0mg/mL. Antimicrobial properties of the complexes were determined by Kirby Bauer (KB) method and it was observed that both gram negative and positive bacteria, including multi drug resistant test microorganisms were susceptible. The calculated MICs ranged between 0.25- 2mg/L. The effective concentration (EC50) was between 0.18 mg/mL and 0.5mg/mL. Whereas the selective index (SI = CC50/EC50) was is 1.0 and 2.6 indicating low to high potential as microbial agent. The metal complexes were tested for possible mode of action and did not conform to known bactericidal activities suggesting a novel mechanism yet to be elucidated. !!!
Nagoya Institute of Technology, Japan

Biography:
Hadi Razavi-Khosroshahi has obtained his PhD in Materials Physics and Chemistry from Kyushu University, Fukuoka, Japan, in 2013. He is currently an Assistant Professor in Nagoya Institute of Technology, Japan. His main research interests are production of nanostructured metal oxides both from top-down and bottom-up approaches. He is recently working on narrowing the band gap of semiconductors by means of severe plastic deformation (SPD), and in particular by high-pressure torsion (HPT) method. His research results based on strain-induced phase transformations have revealed that high-pressure phases of various semiconductors are stabilized at ambient pressure are capable of being excellent environmental and energy materials like visible-light-active photocatalysts.
Abstract:
Titanium dioxide (TiO2) is a well-known semiconductor with superior photocatalytic properties. TiO2 has three polymorphs (anatase, rutile, and brookite) among which anatase exhibits the best photocatalytic properties because of its large electron effective mass, which leads to a low mobility of charge carriers. Despite its good photocatalytic features, application of pure anatase as a photocatalyst has been limited to the UV range of sunlight due to its wide bandgap (3.2 eV). Narrowing the bandgap of pure TiO2 using dopant-free approach has been in the spotlight in recent years. Theoretical studies suggest that high-pressure phases of TiO2 have narrower bandgaps which can coincide with the visible light. However, these phases are stable only under high pressures. High-pressure torsion (HPT) method is an effective technique for stabilizing high-pressure phases at ambient pressure. In this method, high pressure and large plastic strain are simultaneously applied to a sample between two rotating anvils. In this study, the HPT process was conducted at room temperature on pure (99.8%) anatase powder with an average particle size of ~150 nm. Photocatalytic hydrogen evolution was examined under UV light and under visible light. Moreover, X-ray diffraction, Raman spectroscopy, differential scanning calorimetry, photoluminescence spectroscopy, electron paramagnetic resonance analysis, electron energy loss spectroscopy, Fourier transform infrared spectroscopy, and UV-V diffuse reflectance spectroscopy are used for characterization of the material. Photocatalytic hydrogen generation by water splitting was examined as a measure of photocatalytic activity of TiO2.
Photocatalytic hydrogen generation as a function of time under UV and visible lights are shown in Figure1. Hydrogen generation rate under UV light is slower for the HPT-processed sample comparing with that for the anatase powder. However, the hydrogen generation rate is faster for the HPT-processed sample when illuminated by visible light. Hydrogen generation rate both under UV and visible lights significantly improves when the HPT-processed sample is annealed at 500°C.
Green Chemistry and Sustainable Technology
Session Introduction
Osaka University, Japan

Biography:
Toshiyuki Moriuchi received his bachelor's degree in 1991 and his doctoral degree in 1995 under the supervision of Professor Toshikazu Hirao, both from Osaka University. He became Assistant Professor at Osaka University and was a postdoctoral fellow at California Institute of Technology with Professor Jacqueline K. Barton (1996–1997). Dr. Moriuchi was promoted to Associate Professor in 2004. His current research interests focus on the development of novel artificial bioconjugated systems based on self-organization of biomolecules and redox-active p-conjugated systems for functionalized catalysts and materials. He received the Inoue Research Award for Young Scientists in 1997 and HGCS Japan Award of Excellence 2011 in 2012.
Abstract:
Bromination of organic compounds is one of the most fundamental reactions in organic synthesis, providing important precursors and substrates in various coupling reactions. Hazardous and toxic elemental bromine is utilized in a conventional bromination reaction. To avoid the use of bromine, considerable efforts have been devoted to develop an environmentally-favorable bromination method with a bromide ion as a bromide source. Vanadium bromoperoxidase catalyzes two-electron oxidation of a bromide ion in the presence of hydrogen peroxide, affording a bromonium cation-like species, which induces the bromination of organic compounds. So, the bromination reaction mimicking a catalytic activity of vanadium bromoperoxidase has attracted much attention. These methodologies, however, require a stoichiometric amount of a strong oxidant to generate a bromonium-like species. A more practical catalytic bromination reaction system without use of hazardous reagents is to be developed. From the view point of green chemistry perspective, molecular oxygen is considered as an ideal oxidant. We embarked upon the development of an environmentally-favorable catalytic system for selective bromination of a wide range of substrates. In this presentation, versatile and practical catalytic bromination systems by the combination of a commercially available inexpensive vanadium catalyst and a Brønsted acid or a Lewis acid under molecular oxygen will be described.
Olabisi Onabanjo University, Nigeria

Biography:
Abstract:
The potential of using cashew (Anarcardium occidentale) leaf to remove Pb (II) and Cd (II) ions from aqueous solution was investigated. The influence of pH, contact time and initial metal ion concentration and temperature were studied using batch experiment. The biosorption of the metal ions was found to be pH dependent. Analysis of the FT-IR spectra showed the presence of ionizable functional groups (C=O, O-H) which were able to interact with cations and thus served as the active sites for the removal of positively charged Pb (II) and Cd (II) ions from solution. Thermodynamic parameters such as the free energy change (ΔG), ΔH and ΔS were evaluated it was found that the sorption process was feasible, spontaneous and endothermic.
Physical Organic Chemistry
Session Introduction
Hokkaido University, Japan

Biography:
Yoshiyuki Kageyama has obtained his PhD from the University of Tokyo in 2006 under the direction of Prof. Shigeru Murata. He continued his study of the construction of biomimetic supra molecular systems based on organic chemistry as a Postdoc in Prof. Tadashi Sugawara's group at the University of Tokyo. Next he moved to the Faculty of Pharmaceutical Science at Tokyo University of Science as a Postdoc and studied organic photochemistry and molecular-recognition chemistry in aqueous media under the direction of Prof. Shin Aoki. In 2009, he became an Assistant Professor at Laboratory for Condensed Matter Chemistry at Hokkaido University. He worked at Japan Science and Technology Agency as a PRESTO researcher (2013-2017). His specialty is in physical organic chemistry, especially the kinetic study of organic reactions and supra molecular chemistry.
Abstract:
My research field in organic chemistry creates collective and hierarchical movements of molecules in synthetic chemistry. The ultimate goal is to create a reaction system that imitates the living body, that is, create artificial life. The specialty of the chemical process of living organisms lies in where individual reactions progress in a specific and efficient manner and reactions are synchronized to realize continuous molecular group behavior. The spatiotemporal behavior of this biological system is dissipative self-organization, which is far apart from the properties of common substances that apparently stop reactions and exercise at steady state. From the view point of mimetics of the characteristics of such life, synthetic chemical research to create molecular assemblies that continue some dynamic action under non-equilibrium where energy or chemical substances flow in, have been underwent by our group. Herein, we will talk two results of our research. One is auto-catalytic vesicular self-reproduction, and another is auto-oscillatory flipping motion of organic crystal. These two fundamental results will contribute to create more sophisticated chemical systems having autonomous properties.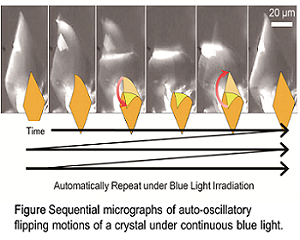 Chinese Academy of Sciences, China

Biography:
Abstract:
A joint theoretical and experimental study on the oxidation reactivity of glycerol catalyzed by chemically pure small Au clusters at the absence and presence of H2O2 was done. From high-resolution mass spectrometry, fruitful products of glyceraldehyde, glyceric acid, tartronic acid, mesoxalic acid and glycolic acid are observed pertaining to the successive Jones oxidation process associated with C-O and C–H bond activation. We then fully demonstrated the reaction pathways on a basis of complementary-active-sites mechanism, revealing the favorable dehydration of glycerol followed by oxidation to form glyceraldehyde and carboxylic acids at the presence of small Au clusters and H2O2. It is found that the Aun/H2O2 system undertakes a heterolytic mechanism by firstly transferring an O-atom from H2O2 to the Au cluster forming an active intermediate, on which the hydride abstraction and subsequent oxygen rebound become thermodynamically allowed, promoting the C-H insertion reaction and further oxidation of aldehyde to carboxylic acids.
Industrial Inorganic Chemistry
Session Introduction
Polytechnic University of Milan, Canada

Biography:
Marco G Rigamonti has studied Chemical Engineering at Polytechnique of Milan and graduated with top of marks under the supervision of prof. F Gatti in 2014. Currently he is pursuing a PhD in Polytechnique de Montreal with prof. G Patience, working on spray drying, computational analysis and scale up for Li-ion battery manufacturing and catalyst for fluidized bed reactors.
Abstract:
Exothermic heterogeneous catalytic reactors are difficult to design when facing hotspots, radial and axial concentration and temperature gradients and run-away. Cylindrical pellets are the typical form for catalysts in fixed beds and the resulting long internal diffusion lengths limits the kinetics. Fluidized bed minimizes diffusional limitations with catalyst powders of 70 µm in diameter. Jet velocities on the order of 50 m s-1 mix the gas and solids thoroughly, resulting in high heat and mass transfer rates. However, the catalyst must withstand severe mechanical stresses induced by the jets. Creating attrition resistant porous micro-spheres is fundamental to compete economically with fixed bed reactor technology. Here, we synthesize vanadium pyrophosphate catalyst (VPP) as a template material to examine the effect of binders and spray drying conditions on attrition resistance and particle shape, size and porosity. A wet media mill (Netzsch mini-fer) ground commercial VPP precursor to a suspension of 7 µm and 0.5 µm primary particles in water. We tested several combinations of binders and additives including colloidal silica, polyvinyl alcohol, NaOH or H3PO4. A two fluid nozzle atomized the slurry inside a 0.8 m diameter drying chamber at 250ºC. EDS elemental mapping images demonstrate that the silica migrates to the surface during the drying process and forms a shell. Longer milling time achieves a smaller primary particle and the ASTM attrition test confirms a higher attrition resistance.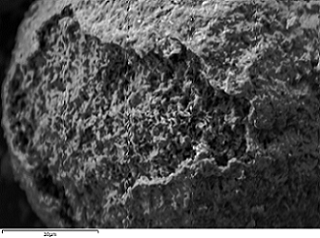 Medicinal Chemistry, Drug Synthesis
Session Introduction
Indian Institute of Integrative Medicine (CSIR), India

Biography:
Anil K Tripathi has completed his PhD from Barkatullah, Vishwavidalaya, Bhopal. He is a Senior Scientist in IIIM Jammu (CSIR-Govt. of India), a premier Scientific Organization. He has published more than 25 papers in reputed journals and has been serving as Reviewer of reputed peer reviewed International journals.

Abstract:
The molecular exploitation of promising lead compounds is still a major line of approach to develop new drugs. It involves an effort to combine the separate pharmacophoric groups of similar activity into one compound, thus making structural changes in the biological activity. Thiazolidinone ring present in a large number of biologically active molecules of different pharmacological classes exhibited different activities. The historical importance of thiazolidine derivative was emphasized during the period 1941–1945, i.e. the development of penicillin which shows the presence of thiazoline ring. The discovery of benzopyran like derivatives as therapeutic agents in early 1820's was the beginning of the chroman related drug development. The chroman derivatives have a relatively broad spectrum with high activity profile against various bacteria and fungi. Due to the diversified nature of chroman and thiazolidinone, which render them to be useful substances in drug researches. In continuation of our search for novel biologically active benzopyran derivatives, in this paper we report the synthesis and antibacterial/anti-cancer/anti-inflammatory activity of a novel series of Schiff bases of 2, 2-dimethyl-4-hydrazone chromanone and its derivatives 4-substituted phenylthiazolidinyl chroman derivatives. The synthetic strategy is delineated in Scheme 1. Numerous keto compounds reacted directly with hydrazine hydrate in ethanol to obtain substituted hydrozones which was further treated with various formyl derivatives in absolute alcohol using catalytic amounts of acetic anhydride to afford substituted shiff's bases. To conclude this particular reaction sequence finally, treated the shiff's bases with thioglycolic acid in dioxan in presence of zinc chloride we obtained substituted phenylthiazolidinyl chroman derivatives (7a-j). All the synthesized compounds were purified by column chromatography before characterization by spectroscopic methods.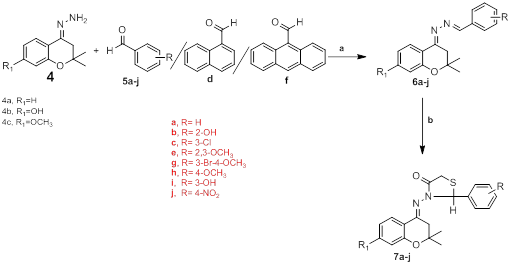 St. Xaviers College, India

Biography:
Mahesh N Sanzgiri has done his PhD in Organic Chemistry from Bombay University in 1984 under guidance of Prof. V V Nadkarny of St. Xavier's College, Mumbai. His research is dedicated to study of few derivatives of anthrone and pheromones. His research work for application of derivatives of anthrone in anticancer and anti-aids activity is a new approach with synthesizing organic compounds using functional groups for trapping active cancer cells and removing aids activity. With wide experience in working with multinational German Chemical and Pharma Co. Merck in India for many years on responsible position, presently he works as a Freelance Scientist and Consultant for doing research and development, also consultant for cGMP, WHO, USFDA, ISO etc. with various well-known Indian and multinational Indian and foreign companies.
Abstract:
Isolation, identification and field study on tiger pheromones is concentrated in this work. Pheromones, although well-known in the insect world, not much work has been done in the case of mammals. In order to do the field studies, especially using this as a biochemical marker by tiger in territory marking and communication especially during mating season, the studies were carried out in forest. For the study, tiger urine was collected from different zoos in month of January, March, July and September to cover most of the seasons of the year. For separation of components of tiger urine for study purpose Merck HPTLC and preparative layer chromatographic techniques were used and so also electrophoratic run on Whatsmann's paper. To confirm functional groups of components separated, IR Spectrum was used. Identification of structure of tiger pheromone molecular weight of tiger pheromone varies from tiger to tiger which indicates tiger pheromone is unique to each tiger. Due to this tiger marks its territory by spreading urine on trees which is identified by other tigers. Molecular weight varies anywhere between 1000-5000.
Umm Al-Qura University, Saudi Arabia

Biography:
Heba M Adly­ is an Assistant Professor of Environmental Health - Faculty of Medicine, Umm Al-Qura University [UQU] and Consultant of Environmental Health. Her technical expertise includes air modeling, environmental chemistry, gas chromatography, mass spectrometry and atomic absorption. She is a Member of American Environmental Laboratory Accreditation Institute [NELAC], Chemical Institute of Canada [CIC] and American Association for Clinical Chemistry [AACC]. She is a member of many academic and administrative committees at UQU. She teaches and participates in numerous curricula at the Faculty of Medicine and Medical Sciences. Currently, she is working as a Project Manager for reformed curricula project between UQU and UCL Medical School. She has two running research projects: (Assessment of cancer risk associated with long-term exposure of airborne some heavy metals in Makkah, KSA) and (assessment of environmental and occupational exposure to mercury among dental staff and its impact on antioxidant capacity).
Abstract:
Backgrounds: Particulate matter (PM10) may contain toxic trace elements that believed to be potent health risk factors due to their carcinogenicity. Makkah is the Muslim holy city in Saudi Arabia with a total population about 1.7 million, although it has limited industrial activities, it has unique characteristics every year, over 2.3 million of pilgrims stay in Makkah through hajj time which increase transportation pollution problems provoking undesignated amount of air elemental pollution.
Objective: This study aimed to determine the cancer risk for population exposed to four heavy metals (Cd, Cr, As, Be,) in ambient air.
Materials & Methods: The study was carried out in Arafat area, east of Makkah representing a highly-crowded area during Hajj time. Air samples were collected for 24 hours using mini volume sampler on a weekly base during summer and autumn 2014. Concentrations of PM10 trace elements (Cd, Cr, As, Be) were analyzed using ICP-MS. Since there were no carcinogenicity risk data of trace elements known in Makkah, measurement of cancer risk of each metal was calculated in accordance to US-EPA.
Results & conclusions: Atmospheric Cd, Cr, As concentrations were elevated in summer than autumn which are possibly due to high wind speed and temperature, an usual phenomenon in Saudi Arabia, leading to increase the atmospheric disturbance as a result of great amounts of dust resuspension from roadside and blowing sand particles. The cancer risk was found to be (1.08×10-4, 7.21×10-4, 4×10-6, 4.6×10-6) for Cd, Cr, As, Be respectively, transcending passable levels of inhalation risk for each element (10-6) as adopted by US EPA. This study may serve as reference to develop air quality management strategy of airborne trace elements related to cancer risk directly affect pilgrims.
Organic Chemical Engineering
Session Introduction
Chinese Academy of Sciences, China

Biography:
Ming Xia has received BS (2009) degree in Pharmaceutical Engineering from Zhengzhou University and PhD (2014) degree in Chemical Engineering from Tianjin University. After graduation in 2014/07, he has joined in the Institute of Coal Chemistry, Chinese Academy of Sciences, where he is now a research associate. His research interests involve resources, particularly focusing on novel reactor research and development (Equipment), steady-state design and dynamic control (Process), and industrial scale-up (plant/factory level), with the help of simulated and experimental methods. At present, he is focusing on the scale-up of multi-tubular fixed-bed reactor for Fischer-Tropsch synthesis (100,000 t/a liquid hydrocarbon), and methanol downstream technology, such as acetic acid to acetone and acetic acid to ethanol etc.
Abstract:
Dividing-wall column is an important way to process intensification. For the past decades, more and more publications were focused on the design and control of dividing-wall column (including petlyuk) since it usually offers considerable energy saving and investment reduction. However, the past research emphasized ideal/zoetropic separation. This work aims to extend the dividing-wall column to azeotrope separation for energy and investment benefits, with special focus on design, optimization and control. Firstly, this work reviewed the past research on the design and control of dividing-wall column. Then a sequential design, optimization and control procedure for azeotropic/extractive dividing-wall column was presented on the basis of total annual cost (TAC) and effective control criteria. At last, several cases were utilized to demonstrate the benefit potentials of azeotropic/extractive dividing-wall column.
(a) (b)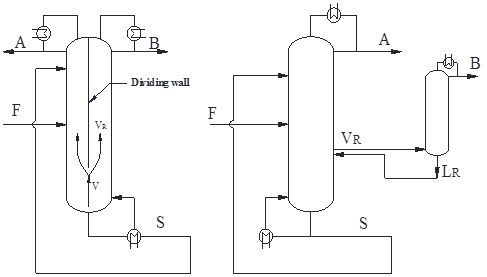 (c) (d)
Figure.1: Extractive dividing-wall column: (a) Integration scheme, (b) Equivalent scheme, azeotropic dividing-wall column, (c) Integration scheme and (d) Equivalent scheme
Advance Trends in Organic Chemistry
Session Introduction
Institute of Chemical Technology, India

Biography:
Sharad R Patil has secured BSc (Hons) and MSc from North Maharashtra University, Jalgaon, Maharashtra, India. He was admitted to Institute of Chemical Technology, Mumbai for his PhD degree in the research group of Prof. N Sekar (CCol FSDC, FMASc). He completed his PhD degree in the year 2017. Immediately thereafter he joined UTU, Bardoli as an Assistant Professor in March 2017. He has 10 research publications in peer reviewed journals. His area of research includes study of organic reaction mechanisms, synthesis of heterocycles, biosensors, and green chemistry, dye sensitized solar cells (DSSC), computational chemistry, and color chemistry, NIR-absorbing/emitting molecules, to design and synthesize multi-specialty organic molecules and conjugated macromolecules or polymers for fluorescent sensors, research and development in chemistry for sustainability.
Abstract:
Water mediated organic synthesis is a fascinating approach in chemistry. We have attempted catalyst free synthesis of thermally stable near infra-red (NIR) emitting quinone fused coumarins with a benzothiazole/benzimidazole acceptor in aqueous medium. The synthesis was attempted using naturally occurring 2-hydroxy-1, 4-naphthoquinone. It is an efficient and environmentally friendly approach for the diversity oriented synthesis of 5, 6-quinone fused 2-pyrone containing compounds. It is a highly productive one pot synthetic method at room temperature that avails commercially accessible materials. In addition, this method has a very short reaction time and milder reaction conditions with an easy separation process. The composition of catalyst free and room temperature condition ensure a green approach towards the excellent practice of the synthetic method. These reactions offer functional NIR emitting fused coumarin compounds extended emission to 810 nm. Structural, spectroscopic and morphological characterization of the material confirms the purity, integrity and future potential materials for high technological applications. Eventually this method gives structurally interesting compounds having optical and pharmacological significance.
Inorganic Materials and Nanoparticles
Session Introduction
Kuwait Institute for Scientific Research, Kuwait

Biography:
Abstract:
Barium sulfate (BaSO4) is a hard scaling usually precipitates on the surface of equipments in many industrial systems, as oil and gas production, desalination and cooling and boiler operation. It is a scale that is extremely resistance to both chemical and mechanical cleaning. So, BaSO4 is a problematic and expensive scaling. Although barium ions are present in most natural waters at very low concentration as low as 0.008 mg/l, it could result of scaling problems in the presence of high concentration of sulfate ion or when mixing with incompatible waters as in oil produced water. The scaling potential of BaSO4 will be investigated using seawater at the intake of seven desalination plants in Kuwait, brine water and Kuwait oil produced water. The best location in regards of barium sulfate scaling will be reported, then a physical treatment method (magnetic treatment method) will be used to control BaSO4 scaling using saturated solutions at different operating temperatures, flow velocities, feed pHs and different magnetic strength.